Volunteer interns are needed to serve in skilled nursing, assisted living facilities, and memory care units. If you would like to make new friends, open your heart, and gain the satisfaction of helping someone in a time of need, consider becoming an Adventures in Caring volunteer intern.
Adventures in Caring offers a one-year service-learning exploration of the human element in health care, for undergraduate students who are pursuing careers in the health professions.
In-depth training, personal interactions with the chronically ill and injured, regular reflection, and year-round coaching develop the advanced listening skills, emotional intelligence, and authentic compassion so vital to healing. Such competencies reduce distress, relieve social isolation, and restore well-being—for hundreds of frail, socially isolated elderly patients in local skilled nursing, assisted living and memory care units.
You will be immersed in a best practices adult learning experience that produces real transformation in your ability to communicate with anyone—regardless of age, illness, race, or culture. From your year of service you will gain skills that last a lifetime—you will learn the language of healing. It is no small thing to form healing partnerships and restore well-being simply by the way you communicate. This is the true art and practice of compassion.
What does it take?
Prerequisites for this program are an unusual combination of wholeheartedness, humility, and the courage to step out of one's comfort zone. This internship is not about you or your resume looking good—it is the practical application of depth psychology to alleviate human suffering. The language of healing uses symbolism, paradox, metaphor, and appreciative listening to draw out the stories that lead to healing—of body, mind, heart, and soul. We even use a make-believe character to get closer to what is most real in life—this the Raggedy paradox that has proved so effective.
Commitment: Two hours per week for one school year (a minimum of 25 visits).
Applicants are selected (only 15 per training) by in-person interview.
If selected, you attend a 20-hour experiential training program prior to being assigned your facility to visit.
All volunteer training seminars are conducted over a long weekend in Santa Barbara.
Thirty-five years of pioneering work in the human side of health care by the AiC team has produced a reliable methodology for teaching the art and practice of compassion.
Learn the Language of Healing
This is the language that makes healing possible. It is active in the healing of trauma, illness, and relationships. In patients, families, and caregivers.
This is what we teach.
It takes a year to learn this language well enough to remember it for life, and to be fluent enough to alleviate distress and restore well-being. After one year you will be capable of restoring the elements of well-being that make life worth living, even for those who are seriously ill or injured, even at the end of life.
The language can be taught—we have done it successfully for thirty-five years—but it cannot be taught by lecture or learned by memorization. It can only be learned in the service of others who are suffering.
This healing language is crucial to the quality of relationships, not only in health care, but in public. We desperately need conversations that are healing rather than divisive, conversations that produce insight rather than merely affirm the latest fashion in group-think. We need language that leads to conversations that are meaningful, open, honest, and life-affirming, rather than those that are superficial, censored, devious, and corrosive. We need language that unlocks our innate capacity to heal, to grow, to thrive.
AiC student interns build proficiency in this language by engaging in healthy, constructive conversations with people who often hold diametrically opposite points of view on politics and religion. You will interact with people four and five times your age, who grew up in different countries, with a different cultures and different races, speaking different languages, believing different creeds—and who are also having difficulty hearing, seeing, or speaking, and are in pain—and you will become able to produce deeply meaningful, healing, life-affirming interactions. That is why we consider the skills you learn advanced.
We hope you will join us on this adventure—it is truly a step beyond the comfort zone, and yet that is exactly how to gain experiences and a capacity to communicate that you never dreamed possible.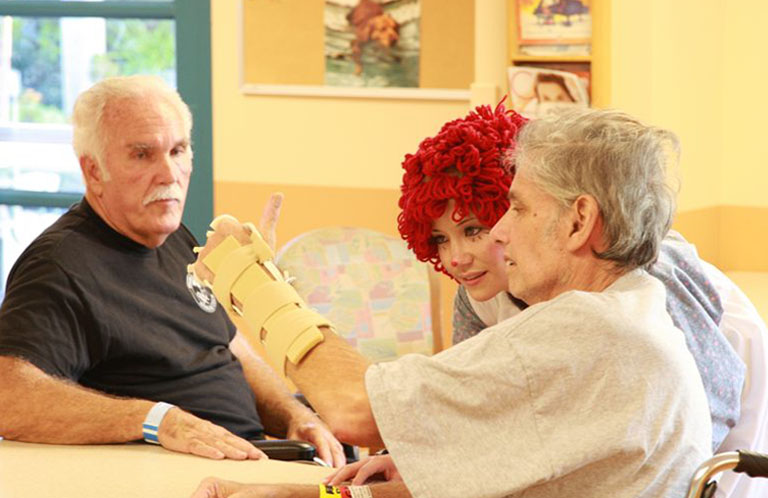 Volunteer interns interact with residents in ways that deliberately build well-being in all seven domains described in the research paper by Fox et al. (2005) called The Eden Alternative Domains of Well-Being.
1 – Identity:
Stories are heard in depth, and the residents' lives are known well. The interactions focus on whatever is most important or interesting to the resident at the time. AiC volunteers fortify individuality by appreciating each resident's strengths and what makes them unique.
2 – Connectedness:
Common ground is established across generations, cultures, and interests. Experiences and stories are shared, sometimes in words, sometimes just in body language. Residents are befriended and become closely connected with enthusiastic young people in life-affirming conversations, for a year or more.
3 – Security:
Trust is built. A safe space is created to speak of things that are close to the heart. Dignity is preserved. Respect is shown. Experiences are validated. Life history is honored.
4 – Autonomy:
Choices are given often. Residents have permission to speak freely and confidentially about anything at all. They are never "shushed." They choose whether or not to even have a conversation, and if they do, residents control the topic and length of conversation throughout.
5 – Meaning:
Insights are gained. Memories cherished. Blessings counted. A resident's contribution and purpose in life is acknowledged. Oral history and the wisdom of elders is passed on. Residents have the opportunity to share with young people what they have found to be most important in life.
6 – Growth:
New perspectives are encountered across the generations. New depths plumbed. Forgiveness is found. Sorrow embraced. Discoveries are made. Horizons expand and experience is enriched even for the room bound.
7 – Joy:
Moments of joy and genuine companionship are experienced. Number of smiles increase. Residents have something meaningful and joyful to look forward to—hope is renewed.