"I applaud your efforts to teach volunteers how to interact with people who are suffering… I did view the video and the program is obviously a labor of love on your part… I am sharing your work with my staff, especially those involved in finding ways for young people to serve their community and fellow citizens."

Colin L. Powell, General, U.S. Army
Chairman, America's Promise
Caring for others on an ongoing basis – either as a volunteer or family caregiver – is a challenge few are prepared for. Physically, mentally and emotionally. Communication often reaches a breaking point because the skills to engage on a human level has not been learned. It is not a subject that is taught in schools or universities and for a good reason: It can not be memorized like learning a periodic table or how to operate a fire-extinguisher. Yet without the element we call Compassion present, healing often fails, personal satisfaction is absent, and stress and burnout sets in. The journey of caring for others can be an adventure or nightmare, depending o
Communicating with Compassion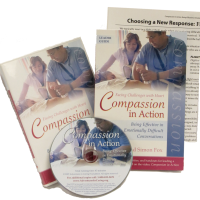 How to Communicate in Ways that Ease the Pain and Lift the Spirit.
A best-selling 40-minute video shows volunteers and lay caregivers how to approach emotionally sensitive situations with confidence.
Being Effective in Emotionally Difficult Conversations.
A 43-minute video shows how to turn difficult conversations into learning conversations, identify 3-layers of a conversation, and recognize the choice-points when conversations can turn around.