Teaching Caregivers the Art and Practice of Communicating with Compassion
— at a standard that enables well-being — since 1984
Award-winning, time-tested
evidence-based programs to
inspire the human element in healing
For professionals on the front lines
a new online course to protect against burnout
Oxygen for Caregivers is an entire toolkit to guard against burnout, build resilience, and sustain compassion.
Available as an online course for individuals (with continuing education credits) or as a ready-made, in-person seminar for instructors to lead small groups, complete with all necessary multimedia, handouts and leader's guide.
Oxygen for Caregivers is both evidence-based and a distillation of grassroots time-tested wisdom, gained through the long careers of experienced caregivers. Participants learn crucial new perspectives and the pivotal skills to move from burnout, compassion fatigue, moral distress, vicarious trauma, or even primary trauma—to well-being.
For undergraduate pre-professionals
who will be our future doctors, nurses and allied health professionals: a service-learning internship in relationship-centered care
The Medicine of Compassion
For undergraduate students who are pursuing careers in the health professions, a life-changing one-year volunteer internship to learn and practice the core communication skills of excellent relationship-centered care.
How it Works
Students are immersed in a best practices, adult learning experience that produces real transformation in the ability to communicate well with anyone—regardless of age, illness, race, or culture. The in-depth three-day training, hundreds of one-on-one interactions with the chronically ill and injured, regular reflection, and year-round coaching develop the advanced listening skills, emotional intelligence, and authentic compassion so vital to enabling healing. 
Win-Win Results
From a year of service students gain skills that last a lifetime. They also discover many remarkable people, and build lasting friendships with people four or five times their age. Their heart-to-heart interactions reduce distress, relieve social isolation, and restore well-being for dozens of frail, socially isolated elderly patients in local skilled nursing, assisted living and memory care units.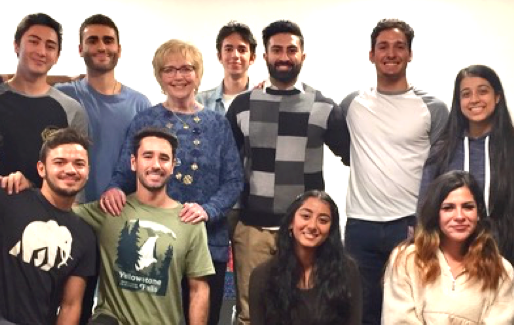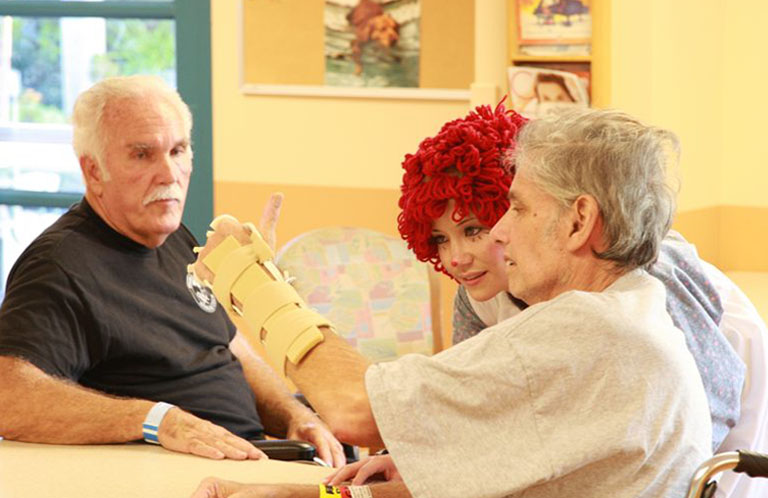 Who Else Benefits?
Nurses, Physicians, Chaplains, Social Workers, First Responders, Volunteers & Family Caregivers—their patients—and all of their Instructors
"We have more residents than ever with dementia, who do not make sense. But they can communicate with AiC volunteers.
—Ann Katz, Activities Director, Vista Del Monte
"I was afraid of spending the rest of my life in a wheelchair. Your volunteer helped me find a ray of hope. Her unconditional love in my darkest hour, carried me through."
— a patient paralyzed in an auto accident
"The effect of AiC volunteers on boosting patient morale is indispensable for optimum care and healing of the patient."
—Stephen Hosea, M.D., Infectious Diseases
"Wonderful tools for all healthcare professionals."
—Pam Malloy, RN, MN, FPCN
End-of-Life Nursing Education Consortium, American Association of Colleges of Nursing
"Terrific! For the first time compassion is presented as a skill which any health care professional can learn."
—Jane Metiu, RN, MSN, Professor of Nursing, Santa Barbara City College
"This would enlighten not only physicians and nurses, but has a place as a cornerstone of education for the entire multi-disciplinary team."
—P.J. Woods, PhD, MBA, RN Assistant Professor, University of New Mexico College of Nursing
The Adventures in Caring program taught me how to console people when they are at their most vulnerable."
Kenyon Tsao, MD, Emergency Medicine, Mayo Clinic, Rochester

"I love this program! It's a wonderful, candid example of compassion at work in a variety of health care settings. It shows the humanity and joy we can find – even in the tougher situations – if we approach them in the right way."
—Abbey Gaske, M.D., Urology Group of Southern California
"Practicing compassion with Adventures in Caring has been the greatest gift. When treating patients from diverse backgrounds I see how compassion helps bridge cultural differences. This experience was priceless."
—Catherine Anderson, CNP, Columbia University School of Nursing
"This program has taught me a life skill that has penetrated all areas of my life. I am a better friend, daughter, sister, and certainly a better provider because of my experience with Adventures in Caring."
—Monica Garty, CNP, Pediatric Nurse Practitioner at Harbor UCLA Medical Center
The sense of revelation that I and my colleagues had – what a learning experience! I was moved to tears."
—Charlotte Dullea, RN, Subacute Unit, Goleta Valley Cottage Hospital
"Please keep up the good work. It is fascinating and much needed."
—Paul S. Auerbach, MD, MS, FACEP, FAWM
Division of Emergency Medicine
Stanford University School of Medicine
"A remarkable program. I highly recommend it."
—David Chernof, MD, FACP, David Geffen UCLA School of Medicine
"I was impressed by how it spoke to such a wide variety of people. Students and nurses aids easily understand the material, yet medical doctors also find it valuable."
—Richard Brand, MD, Assistant Dean, Washington University School of Medicine
"Helps us take better care of ourselves and each other, so that we can provide better care for our patients."
—Jason Prystowsky, MD, MPH, FACEP, Medical Director, Santa Barbara City Fire Department and Doctors Without Walls
I applaud your efforts to teach volunteers how to interact with people who are suffering… the program is obviously a labor of love on your part…  I am sharing your work with young people who serve their community and fellow citizens."
—Colin L. Powell, General, U.S. Army (Ret.), Chairman, America's Promise
"An opportunity to see what a profound difference human caring makes in the lives of others! I will be using it as a teaching tool for professional and volunteer caregivers."
—Peggy Matteson, PhD, RN, FCN, Commissioned Minister of Health, United Congregational Church. Chair, Department of Nursing, Salve Regina University, Newport, RI
"A true gift for all of those who work in a helping field."
—Jeffrey S. Bucholtz, President, San Diego Domestic Violence Council
"A comprehensive program filled with practical strategies… designed for helpers to reconnect with others and themselves."
—Diana Tikasz, MSW RSW, Hospital Social Worker and Compassion Fatigue Specialist, Ontario, Canada
Such a healing balm you have offered we happy few so blessed to serve, so often wounded on the field. I shall tuck it in my heart and in my go bag.
—Fr. Jon Hedges, Santa Barbara Sheriff's Chaplain
"This is a compassionate training for all of us who long to know 'what to say' or 'what to do' when a loved one is suffering."
—The Rev. Anne S. Howard, Executive Director, The Beatitudes Society
"As I reflect on the widespread need in our frantic, fractured society for people with a healing touch, I cherish a fervent hope that this resource becomes available to the countless people who could use it to enhance their caring attitudes and skills."
—Howard Clinebell, Ph.D., Emeritus Professor, Pastoral Psychology & Counseling, Claremont School of Theology